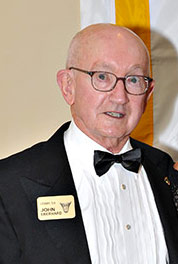 Edward John Eberhard MD, "Doc" to many of his friends in the West Point Society of Naples, passed away peacefully this past November. As shared by his family, his proudest local accomplishment was the founding of the West Point Society of Naples. He and his wife Pat were devoted supporters of our Society, cadets, graduates, and the Academy.
John Eberhard was born September, 21 1937 in Cleveland Ohio, and in 1955 entered the United States Military Academy. The ideals and values of West Point further defined his life. After medical school, the years 1965 -1973 were John's most meaningful and humbling as he provided orthopedic surgery care to soldiers wounded in Vietnam at Walter Reed Army Medical Center culminated by serving in Vietnam as Chief of Orthopedic Surgery at the 85th Evacuation Hospital and volunteering at the Qui Hoax Leprosarium.
John's career then spanned twelve years in a group practice in Maryland before he established a Naples practice and subsequently served his patients for over eighteen years. John was a leader in our Southwest Florida community.
His love and admiration for his wife of 60 years, Pat, children, family, and West Point defined his passion for life. Given his leadership as our Founder and dedication to our Society, in 2013 we established the Eberhard Award which is given to members who have made a noteworthy and outstanding contribution to our Society. In his memory, we are also dedicating a memorial to him at the AOG Alumni Center at West Point.
Be thou at peace, John.