WPSN's contribution to the Lee County JROTC program (16 high schools) sponsored the Lee County JROTC's Drone Competition. There were three events: two qualification tournaments on 16 March (Gateway High School) and 13 April (Estero High School), and a championship on 20 April (Dunbar High School). Justin Gill, USMA Class of 2010, represented WPSN at the Championship competition as a Judge and Awards presenter. Justin's experience and background from his active duty time opened up and validated the opportunities that are out there for the JROTC Cadets involved in Science, Technology, Engineering and Math (STEM) activities. With the West Point Society's support, over 60 JROTC Cadets participated in two Speed League Drone Racing Qualifying Tournaments and the Championship.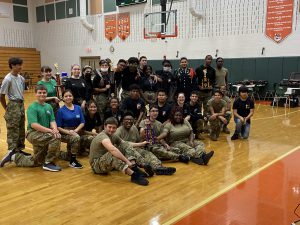 Final 4 Lee County JROTC teams together following the awards ceremony. Tournament Champions, South Fort Myers High School (Center, black shirts); Second Place, Dunbar High School (Front row, seated); Third Place, Bonita Springs High School (left); Fourth Place and High Flyer Award recipients Gateway High School (right).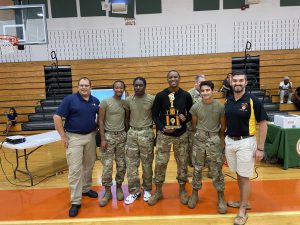 Michael Hartog (left) of Florida Drone Supply, and Justin Gill (right) representing WPSN, present the High Flyer Award to Gateway High School. This award recognizes the best overall team based on teamwork, sportsmanship, and general standards of excellence expected of professional pilots.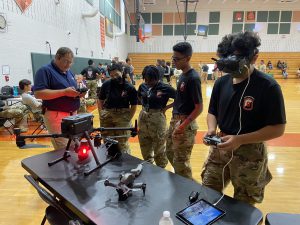 Cadets from South Fort Myers High School learn about the thermal imaging capabilites of drones, and conduct virtual reality flight training.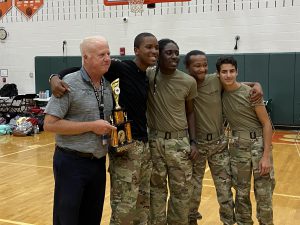 High Flyer Award recipients, Gateway High School, pose with their senior instructor / mentor, COL (ret) Jerry Hadley. Justin Rodriguez, 2nd from right, is applying to West Point.