This event has passed.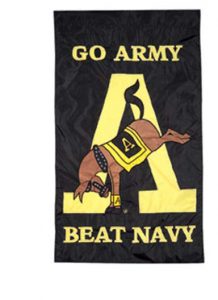 Please join the West Point Society of Naples on Saturday, December 11th, 2021 at Bokamper's Sports Bar and Grill and cheer the Army football team on to victory over Navy.
Cocktails and food   (pay as you go).
We hope you can make it and look forward to seeing everyone there.
Who: West Point Alumni/a, Parents Club, and Guests
What: Army vs. Navy Football Game
Where: Bokamper's Sports Bar and Grill – Naples, 8990 Fontana Del Sol Way, Naples, FL 34109, (Located west on Vanderbilt Beach Rd. from the intersection with Airport-Pulling Rd.)
When: Saturday, December 11th
Cost: Pay as you go
R.s.v.p.: NLT December 8th
Event opens at 1430 (2:30 PM) —–  Kick-off @ 1500 (3:00 PM)
Please bring the Kids!
BEAT NAVY!  (Again!!!)
R.s.v.p.:


"*" indicates required fields