This event has passed.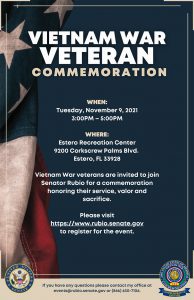 When:

Tuesday, November 9, 2021

Time:

3:00PM – 5:00PM

Place:

Estero Recreation Center, 9200 Corkscrew Palms Blvd., Estero, FL 33928
Vietnam War veterans are invited to join Senator Rubio for a commemoration honoring their service, valor and sacrifice.
Please visit https://www.rubio.senate.gov to register for the event.